English summary in short: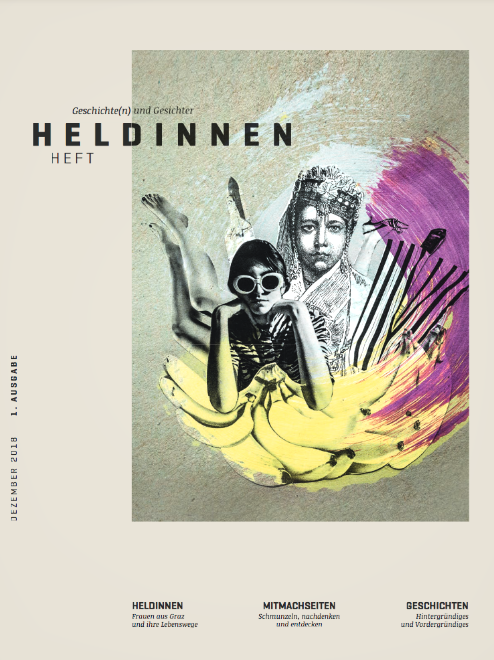 A magazine can be a low-treshold approach towards sexual education. Therefore we published one about every day heroines. It is a mix of twenty heroines from different ages and backgrounds, various articels about women-related topics and some pages to fill in your thoughts. However, the magazine is in German language. But if you are curious, you can read some of the articels on this website:
---
Was hat Sexuelle Bildung mit Heldinnen zu tun?
Sexuelle Bildung ist umfangreich und umfasst weit mehr, als das Aufgreifen und Sprechen über Themen der klassischen Aufklärung. Sie schließt eine intensive Auseinandersetzung mit Gefühlen, Schönheitsidealen, Geschlechterklischees und Leistungsdruck mit ein.
Als Kompetenzzentrum für Sexuelle Bildung, Kommunikations- und Gesundheitsförderung in Graz beschäftigt uns also auch, wie wir unaufgeregt über diese und andere Themen in der Öffentlichkeit sprechen können. So entstand die Idee, ein Magazin – das Heldinnenheft – zu veröffentlichen. Unterstützung erhielten wir dabei vom Referat Frauen und Gleichstellung der Stadt Graz.
Das Magazin ist ein Beispiel dafür, wie niederschwellige Sexuelle Bildung umgesetzt werden kann. Damit werden breitere Zielgruppen erreicht und Gesprächsanlässe geboten. Denn genau jene Reflexionen und Diskussionen sind ein wesentlicher Teil gelungener Sexueller Bildung.
Der Inhalt des Magazins – "Heldinnenheft"
In einer komplexen und vielfältigen Welt suchen Menschen immer wieder nach Orientierung – ganz egal, wie alt oder jung sie sind. Als Gesellschaft fragen wir uns ständig, was richtig, gut oder normal ist, und streben dabei oft nach dem Optimum. Dabei wird gerne das Herausragende als Maßstab herangezogen. Wenn dann doch mal das Alltägliche im Fokus steht, wird wiederum vermeintliche Authentizität mit Perfektion vermischt.
Wir wollten zeigen, dass in jeder und jedem von uns ein Held*eine Heldin steckt. Aber auch, dass Heldinnendasein ganz schön menschlich ist. Den Kern dieser ersten Ausgabe bilden daher 20 Gespräche mit in Graz lebenden Frauen aller Generationen und aus allen Kulturkreisen. Solche Frauen begegnen uns auf der Straße, im Supermarkt und im Café genauso wie im Pflegeheim, im Kreissaal oder am Fußballplatz. Sie haben uns erzählt, wann sie sich mutig fühlen und worauf sie stolz sind. Außerdem haben sie uns verraten, was ihnen Angst macht und was sie sich für die Zukunft wünschen.
Zudem widmen wir uns in kurzen Dossiers aktuellen Themen, die unsere Heldinnen und uns selbst im Alltag begleiten:
Warum dauert es länger, einen Kuchen für Instagram zu fotografieren, als ihn zu backen?
Täte uns etwas Wutfreundlichkeitnicht mal gut, statt immer #happy zu sein?
Warum braucht es für Rosa immer eine Lösung und welcher Zeitpunkt ist der Beste für ein Instagram Posting zum Thema #fitness?
Warum ist ein und dieselbe Damenkleidergröße in verschiedenen Geschäften unterschiedlich groß?
Abgerundet wird das inhaltliche Konzept des Heldinnenhefts durch Mitmachseiten. Sie bieten genug Platz für eigene Gedanken und Kritzeleien rund um die Themenbereiche.